Be Patio-Ready For the Fourth
The Fourth of July is just around the corner.  Prime your patio for a patriotic outdoor celebration!
Whether your plans include a summer barbecue, gathering by the pool, or a fireworks display, your festive get together should include a stylish outdoor space that will ensure your guests enjoy spending the holiday at your home.
Create A Charming Atmosphere With Blooms
Start planting now or toss together a few porch pots at the last miniute to create an an inviting entrance.  Adding fresh, healthy, blooming potted plants can completely change the atmosphere of your gathering.  If your spring plants have been giving you the stink eye for being left to their own devices,  your guests will notice too.  Just a few festive patriotic planters will elevate the mood.
Red, White, and Blue with Proven Winners
Big, blooming annuals are readily available leading up to the Fourth (and after).  We grow our own, which allows for fresh deliveries on a regular basis. With a bit of extra effort your outdoor space can be as attractive and comfortable as your indoor spaces.
---
Angelface® Blue Summer & Bicolor Snapdragon
Angelonia
» Full/Part Sun
» 18-24″
» Thriller
---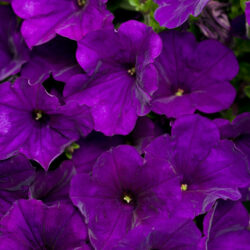 Supertunia® Royal Velvet™
Petunia
» Full/Part Sun
» 6-12″
» Spiller
---

Superbells® Blue
Calibrachoa
» Full/Part Sun
» 6-12″
» Thriller
---

Catalina® Midnight Blue Wishbone Flower
Torenia
» Part Sun
» 8-12″
» Spiller
---

Infinity® Red
New Guinea Impatiens
» Part Sun/Part Shade
» 10-14″
» Filler
---
Surfinia® Deep Red
Petunia
» Full/Part Sun
» 3-6″
» Spiller
---

Mojave® Red Moss Rose
Portulaca
» Full/Part Sun
» 4-8″
» Spiller
---

Vermillionaire® Large Firecracker Plant
Cuphea
» Full/Part Sun
» 18-24″
» Thriller
---

Superbena® Royale Red
Verbena
» Full/Part Sun
» 6-12″
» Spiller
---

Angelface® Super White
Angelonia
» Full/Part Sun
» 30-36″
» Thriller
---

Diamond Frost®
Euphorbia
» Full/Part Sun
» 12-18″
» Filler
---

Snowstorm® Giant Snowflake®
Bacopa
» Full/Part Sun
» 6-12″
» Spiller
Save
Save
Save
Save
Save
Save
Save
Save
Save
Save
Save
Save